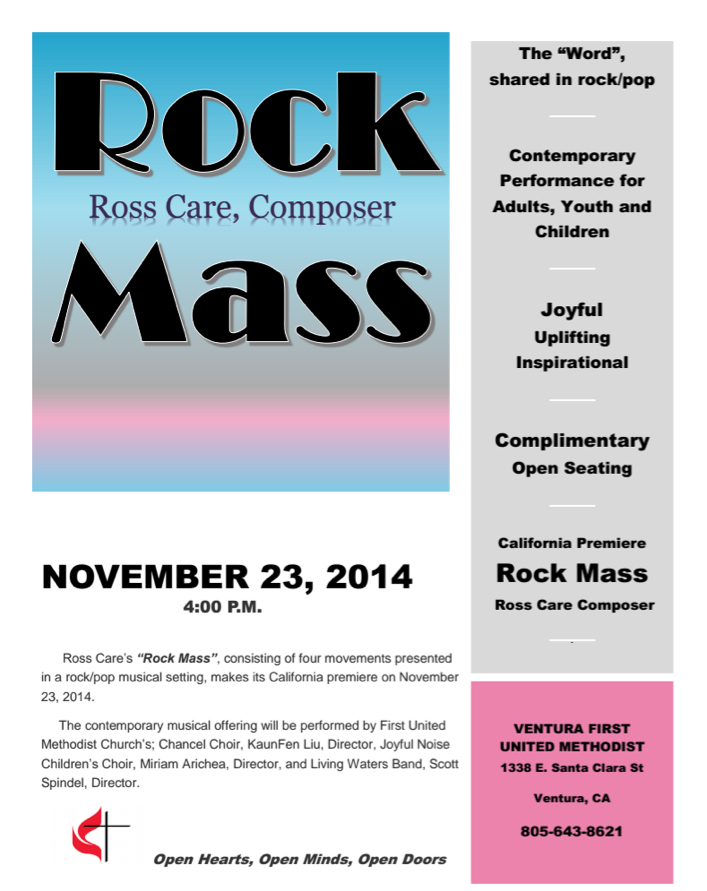 Ross Care: ROCK MASS-Notes by the Composer
The ROCK MASS follows both the mass text in English, and also suggests the history of rock from blues through '60s soft and art concert/theater rock.
KYRIE-Based on a rhythmic blues structure. Goes without pause into the
GLORIA-Based on classic 1950s harmonies, with some hints of jazz in the middle section.
SANCTUS-Lyrical, but intense 60s soft rock comes to a rousing up-beat conclusion.
A recurring bass pattern recalls the blues motif of the KYRIE. Structure also suggests the Trinity in that section are all repeated three times.
AGNUS DEI-Eclectic styles, free folk/art/theater rock.
The text is first stated in Latin in a classical mezzo-soprano solo with organ, which is then transformed into a country/gospel version in English. Folk rock is then suggested in a setting of William Blake's poem, The Lamb. Sung by children's choir, and then repeated in counterpoint by adult voices with the mass text. An interlude for piano, flute, and viola is based on the Lamb melody. After a reprise of the Angus Dei interweaving Latin and English texts, the work climaxes with a piano solo, and a reprise of the Lamb of God's unfortunately always timely plea for peace: "Lamb of God, grant us peace."
The ROCK MASS was first performed at the First Presbyterian Church of Lancaster, Pennsylvania. It later toured in various venues and festivals across central Pennsylvania.
It is currently being prepared for its California premiere at the First Methodist Church of Ventura on Sunday, November 23rd at 4.00 PM.
Scoring is for mixed choirs (adults, young people, children) with mezzo-soprano and baritone solos. Accompaniment is for rock group (lead and bass guitars, drums, piano), flute, viola or cello, and organ.
There is a full piano reduction, and MIDI recordings, which approximate the original sound with a wordless choir sound suggesting the vocal lines.
Ross CARE, composer